A True Breeder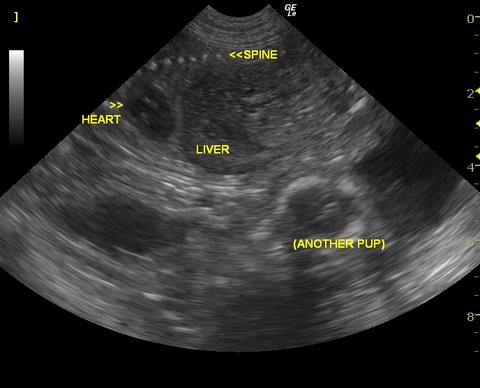 Sonogram of eight SureFire pups
A TRUE BREEDER.
A true breeder is one who will go without sleep to whelp her puppys after planning a good strong breeding. One who watches anxiously over the birth process and then afterwards over every little waggle or cry. A true breeder will disregard birth fluids and put mouth to mouth to save a newborn, litterly blowing life into a tiny helpless creature, that is often the culmination of a lifetime dream. With this said, many of my days and nights have been spent in a whelping box, with knees and back given out, totally exhausted, but none the less you will still find me sleeping there watching those pups grow with a smile on my wrinkled face and much love and warmth in my heart.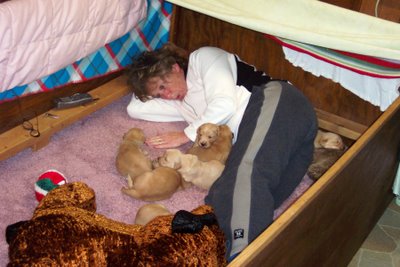 Nap Time For All !
My Goldens are dressed in a field coat. They drip dry easily. They range in coat color from dark gold to red. For most they are high energy dogs that can work with lots of enthusiasm all day. And for the most part they come inside and settle right down. They are great house dogs. My Goldens are very intelligent, biddable, athletic and have proven themselves to have wonderful work ethics. I look for hunting, competition and performance homes but for sure a few will go to very active pet homes.
When looking at pricing, my price represents not only the quality of the Sire & Dam, but all the effort that I put into researching pedigrees, of putting the right two dogs together to create the best litter I can as well as the time, travel and associated expenses for the breeding. And there is the cost of health testing and all of the associated many expenses involved in raising a liter until they go home. And there is the time spent in analyzing the puppies and then matching each puppy with the right new owner.
As an occasional breeder, I try hard to reduce the risk of genetic defects. But we should all know it is Not possible to avoid all genetic problems in breeding. When my pups leave my home they leave only after being vet checked and with their first set of vaccinations. They have received individual stimulation from birth and are well socialized in a home setting and outdoors and have been introduced to birds. When the weather permits all my puppies get introduced to water and learn how to swim and they have all been introduced to crate training and house breaking.
To see pictures of some of my previous litters go to