About Me & My Girls
Welcome to my Website, SureFire Golden Retrievers. My name is Beverly Weaver. My career with animals began when I was a teenager showing Quarter horses and Tennessee Walkers. Eventually I had to downsize to something smaller, like a dog, a big dog. I started off with a Great Dane and then I fell in love with a Doberman, and after that, a yellow Labrador Retriever. I began showing these dogs in AKC Obedience, working my way up and quickly acheiving their Utility titles.
| | |
| --- | --- |
| | |
| Nickie | Lodi |
Then I discovered that Golden Retrievers were in my blood and in my heart with my first Golden, Red Eagle Nickie Fox On Run. Nickie was a SuperDog. She worked real hard and achieved an Obedience Trial Championship (OTCH), the highest possible AKC Obedience title. Next I started my dogs in Agility, both USDAA and AKC, and qualified to attend the National Trials for over eight years, achieving two Master Agility Championship (MACH) titles. I also branched into Tracking, putting numerous Tracking titles on my dogs and then got hooked on Field training, putting numerous WC-WCX and Senior and Master titles on my Goldens.



I am hooked on producing the best Goldens I can, for myself

to work and play with, and for others as well.. My goal is to produce sound quality

Goldens For Working Homes Only.

I am located in Northeast Kansas and I am a hobby breeder.

As you can see, my Golden Girls are performance dogs,

which also make wonderful family dogs. My girls pedigrees

speak for themselves. With pedigree's like this, trainability

is a must, and I strive to keep it that way.
I believe that with good genes and being raised on holistic food, with a good home environment, ensuring that clearances of hips, eyes, heart, elbows, thyroid and PRA eye testing are obtained before breeding, and studying pedigrees to select the best match, longevity will be in my favor in raising the best pups I can.
Check out my Dogs Of Fame page,
where you can see the trainability in my dogs SHINE, on Hallmark Cards, billboards, TV commercials, dog food bags, and in books with stories written about us.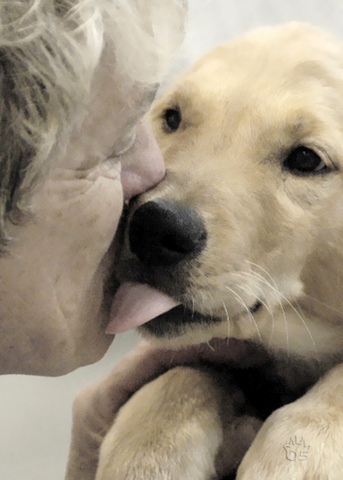 Yes, A true breeder is a loved breeder.
Contact me at 913-362-3397