Memories
I have had dogs, dogs, and more dogs - I Luv Dogs.
They have made memories, memories, and more memories
I Luv Memories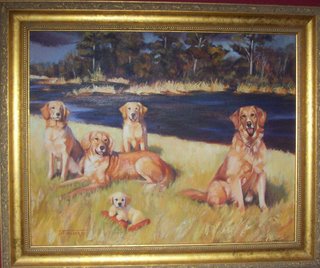 This is an oil painting of my first Golden girls by
Debbie Fuelberht - I just love it.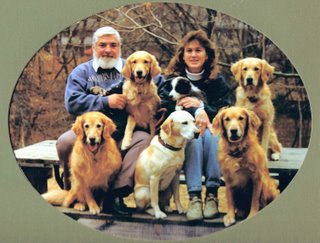 Mike & me with Nickie, Dee-O-Gee, Quest, Luckie, Cajun & Jammer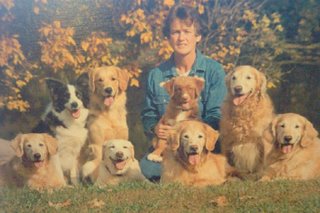 Jammer,Quest,Flash,Luckie,Ready, Nickie,Cajun,& Dee-O-Gee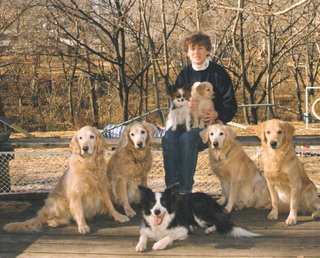 Dee-O-Gee, Cajun, Jammer,& Flash
with Quest, Leah, & a pup.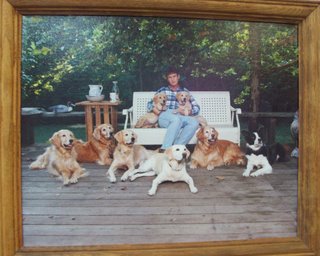 Dee-O-Gee, Cajun, Jameer,Luckie, Nickie, Quest and Jammer Pups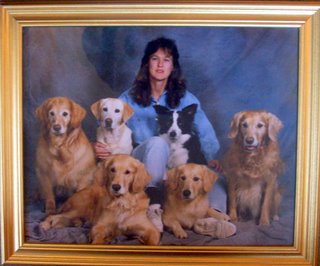 Nickie, Luckie,Dee-O-Gee, Jammer, Cajun, Quest
| | | |
| --- | --- | --- |
| First there was Patton | Then it became Patton & Luke | Luke was my first real obedience dog. |
| | |
| --- | --- |
| A friends painting of Patton | Patton, Luke, Me & Chris |
Then came my Sunnybrook Acres Luckie Girl -

A very sweet yellow lab female..

Luke and Luckie - what a pair.

Me doing Agility with Luckie in 1989.
Luke was the first dog I really worked at

obedience with. He was a quick learner

and was a lot of fun to work with. He

was also pretty good a frisbee and great

with the kids.
| | |
| --- | --- |
| Oh Luckie Girl... | Luckie placed 13th in Houston. |
| | |
| --- | --- |
| Sunnybrook Acres Luckie Girl | |
And Then Came Red Eagle Nickie Fox On Run.

Nickie was truly One Of A Kind.

Nickie was a Wonder Dog - with honors in Dog World.

Nickie was a naturally

versatile dog who loved agility.
| | |
| --- | --- |
| | Nickie really, really, really loved Agility... |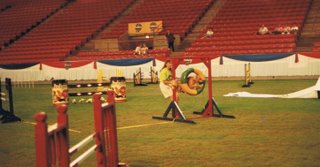 Nickie running a course at the Astro Hall in Houston at the USDAA Nationals.
And then came Red Eagle Ragin' Cajun
Cajun was quite a girl. She was the beginning of my breeding program and was an ad star as well.

I had always said I would never keep two pups from the same litter -

And then Cajun had Jammer and Dee-O-Gee.

They were a couple of Keepers, for sure.
Jammer and Dee-O-Gee

They were quite a pair.

Two Great Sisters

Dee-O-Gee and Jammer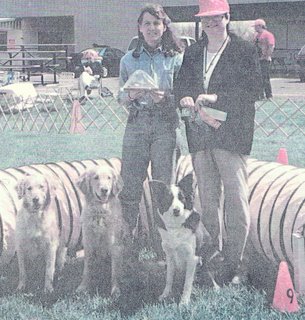 While I was doing Agility with Jammer and Dee-O-Gee,
I also got a Border Collie pup, Quest, who added some zip to my life.
| | |
| --- | --- |
| Dee-O-Gee loved field work. | Good Girl! |
Nickie, Cajun & Luckie on an Agility CrossOver.

That's Keith Harold in the pink hat with his border terriers.

Nothing like a dog that likes to work