HRCH SureFire Turn Me Loose Zoom**
Master Hunter, CD, WCX, CCA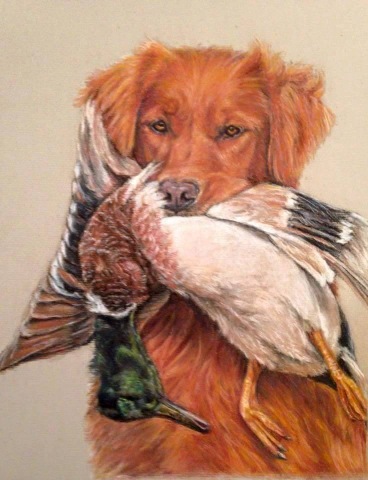 Zoom - A Perfect Painting

Zoom is 6 ½ years old (Jan2018) and 62 lbs. of dark red drive. She has her CCA Conformation Evaluation and is in Breed Standard. Zoom received her Master title when she was two years old. She Qualified for the Master Nationals three years in a row. She has Derby placement and a Jam. Zoom is always in training for field work and loves to train. She is very high energy and loves her water work. She has a 'crash-the-water' entry and is lots of fun to handle. Zoom loves life and is always ready to train. She has a high work ethic and is very intense when it comes to working. She is good in the obedience ring, knows all of the obedience drills, and has her CD title. We'll be training and hope to run some field trials. Zoom has been seen in several TV commercials and has done numerous studio photo shots for various commercial advertisements. Zoom has an on/off switch, so, though she is in high drive when she's working, she is great in the house as well, just nice and mellow. She's also good with other dogs, loves to cuddle and is a great mother – she really loves her pups.
| | |
| --- | --- |
| Zoom Was Born In June, 2011 | Zoom - Master Hunter - 2/19/2014 |



Zoom with her 2015 wins, rosettes, entry number from

Master Nationals in Cheraw, SC. and previous trophies.


Zoom with her CCA award.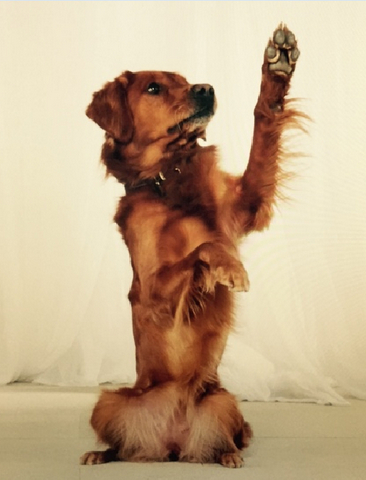 Zoom was running Master at the age of two.
Her brother, Fury, already had his Master title and our other two boys,
Cutter and Chip, were working on their Senior Titles.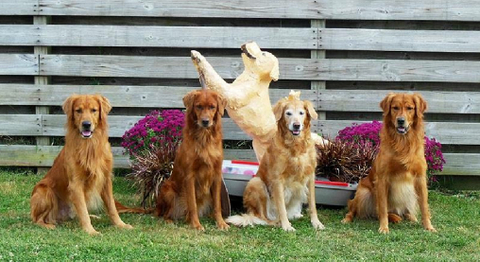 Zoom's mother Boogie (2nd from right) and her sibling Cutter, then Zoom, and brother Chip on the end.
Picture was taken at the 2015 Golden Retriever National Specialty -
all ran Masters.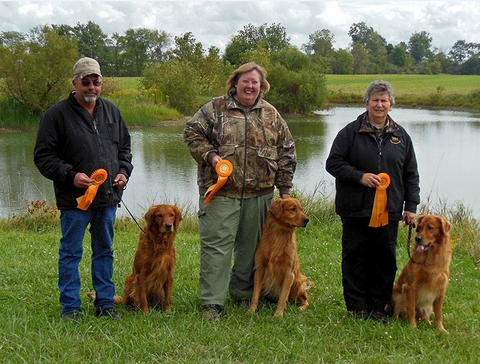 Zoom's siblings, Darrin Morman & Fury MH, Chris Shram & Cutter MH,
and Gwen Coon & Chip SH
| | | |
| --- | --- | --- |
| | 'Cutter' - Zoom's Brother | |
| | |
| --- | --- |
| Zoom's Dad, 'Deveron' Won The 'Q' | Boogie, Zoom's Mom |
| | |
| --- | --- |
| Gwen & Chip | Darrin & Fury |
*************************************
Zoom's 2016 Pups
| | |
| --- | --- |
| Alinda & 'Colt' | Jimmy & 'Turbo' |
| | |
| --- | --- |
| Bente in Norwary with 'Get'. | At Retriever Academy, Oklahoma, 2014 |
| | |
| --- | --- |
| Marilyn's 'Mya' | Bente's 'Get' |
| | |
| --- | --- |
| 'Mya' - Zoom's Daughter | 'Get' - Zoom's Son |
| | |
| --- | --- |
| Bente's Get | |
Link to Zoom's 2018 Litter with Joker