HR SureFire Turn Me Loose Zoom CD MH WCX ** CCA has been bred to
You Have Got To Be Kidding CDX RE MH50 NA NAJ NF CGC WCX ***
Zoom & Joker
Pups Born Jan 25 2018
ALL SOLD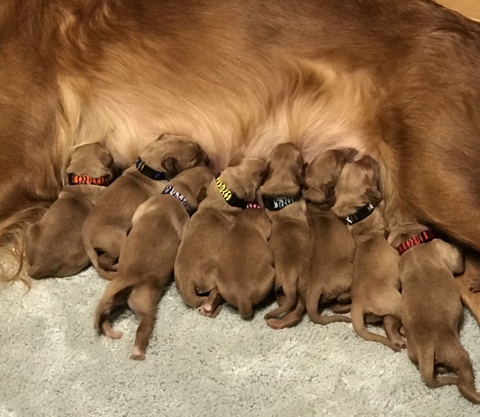 Five Girls -- Five Boys
Go Directly To Their Puppy Page Here
Zoom & Joker Puppies Jan. 2018


Joker
Beth Slkohl had these words about her boy, "Joker is 6 ½ years old, long and lean, measures 23 at the withers, and is 61 pounds. He was a Master Hunter at 2 ½ , he has qualified and run the Master National every year since 2014, earning a qualification in 2015 and 2016. He is Qualified All Age, and we are hoping to run more Q's next spring. He is owner handled and trained. He has over 60 master passes, and is a member of the GRCA Hunt Test Hall of Fame. He earned his CD in Obedience before he was 18 months old He has his CDX, and is currently training for his UD. He is also working on his Open Agility titles. He is aptly named…he goes through life with a sort of reckless abandon, and very happy. He is a non-stop retriever, whether its a bird, a bumper, Frisbee or ball. He absolutely loves the water, anytime of the year."
Zoom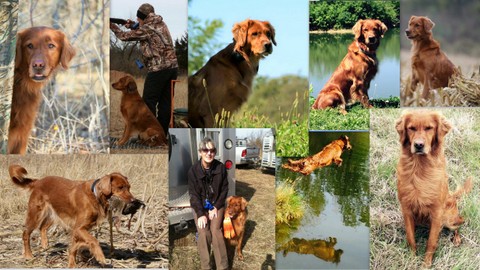 Zoom is 6 ½ years old and 62 lbs. of dark red drive. She has her CCA Conformation Evaluation and is in Breed Standard. Zoom received her Master title when she was two years old. She Qualified for the Master Nationals three years in a row. She has Derby placement and a Jam. Zoom is always in training for field work and loves to train. She is very high energy and loves her water work. She has a 'crash-the-water' entry and is lots of fun to handle. Zoom loves life and is always ready to train. She has a high work ethic and is very intense when it comes to working. She is good in the obedience ring, knows all of the obedience drills, and has her CD title. We'll be training and hope to run some field trials. Zoom has been seen in several TV commercials and has done numerous studio photo shots for various commercial advertisements. Zoom has an on/off switch, so, though she is 'on' and in high drive when she's working, she is 'off' at home and is great in the house as well, just nice and mellow. She's also good with other dogs, loves to cuddle and is a great mother – she really loves her pups.
See Zooms Page on My Girls page for more info on her or click the link below.
SUREFIRE TURN ME LOOSE ZOOM'S PAGE
My SureFire Goldens wear a durable field coat. They drip dry easily. They range in coat color from dark gold to red. They are, in general, high energy dogs that can work with lots of enthusiasm all day. And for the most part they come inside and settle right down. They are great house dogs. My Goldens are very intelligent, biddable, athletic and have proven themselves to have wonderful work ethics. I look for hunting, competition and performance homes for my pups but for sure a few will go to very active pet homes. When looking at pricing, my price represents not only the quality of the Sire & Dam, but all of the effort that I put into researching pedigrees, of putting the right two dogs together to create the best litter I can, as well as the time, travel and associated expenses for the breeding. There is also the cost of health testing and all of the associated many expenses involved in raising a litter until they go home. And there is the time spent in analyzing the puppies, hours of time on the phone and emailing with prospective new owners and then matching each puppy with the right new owner. As a breeder, I try hard to reduce the risk of genetic defects. But we should all know it is Not Possible to avoid All genetic problems in breeding. My pups are raised in a room in my home where I can be near them at all times. They have their own playground and a toy box full of toys. They each get handled by their many visitors so they are very used to people. When my pups leave my home, they leave only after being vet checked and with their first set of vaccinations. They have each received individual stimulation from birth and they are very well socialized, both in a home setting and outdoors and they have all been introduced to crate training and basic house breaking. My pups are exposed to multiple environments and are experienced on both teeter boards and stairs and have they have all been introduced to birds. When the weather permits all my puppies get introduced to water and many learn how to swim at an early age. I truly do Love All My Pups.
How Many Do You Count?
Not big at all 6 days out .... not much...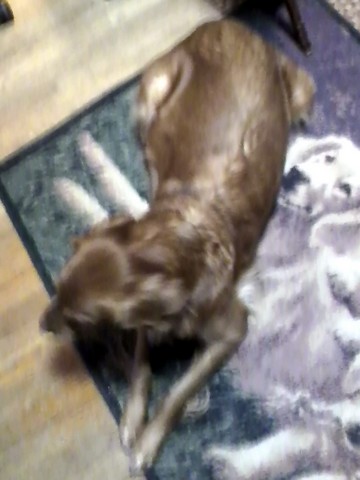 If you are interested in this litter, Please fill out and forward the application found on
The Puppy Purchase Application page and please include your email address.
Puppy Purchase Application Page
Serious Inquires Only Please.